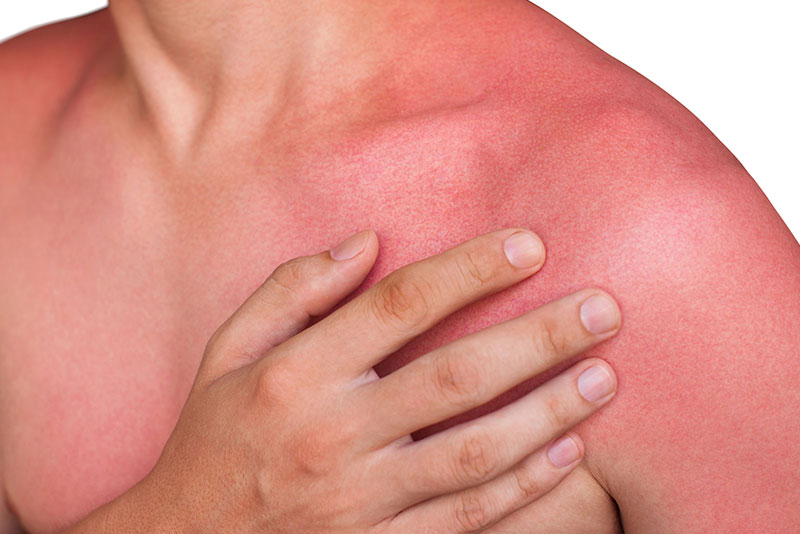 CBD & Sunburn
Sunburn is described as the reddening, inflammation, and, in severe cases, blistering and peeling of the skin caused by overexposure to the ultraviolet rays of the sun.   A government survey found that half of U.S. adults under 30 say they have experienced a sunburn at least once in the past year.  Up to 95% of malignant melanomas are caused by excessive sun damage and may cause long-lasting damage to the skin.
Sunburns are a delayed response and will appear sometime after the sun exposure that caused them. Peak redness will appear 12–24 hours after exposure so do not delay or hesitate to get relief to the sunburned area.
CBD USE
The Endocannabinoid System is a network of receptors in your nervous system that, through natural transmitters called endocannabinoids, helps regulate a variety of body functions, including the immune system.
The immune system has the most relevance to using CBD for sunburns. Research indicates that CBD may help modulate the body's inflammatory response by binding to the receptors, possibly making CBD an exceptional tool for managing soreness, pain, and other physical stresses.  While people are being educated on taking CBD internally,  GLNH wants our customers to understand that you also have endocannabinoid receptors in your skin and the external benefits may be just as extraordinary.
HISTORY AND STUDIES
Studies have shown that a CBD topical may also help to reduce pain at the site of the burn while helping to prevent infections.  CBD topical may work as an anti-inflammatory and may suppress the body's inflammatory response.
https://www.researchgate.net/
https://www.ncbi.nlm.nih.gov/
SUGGESTED USE
One of the easiest and most convenient ways to administer CBD is through topical application.  Greenleaf Natural Health's body butter or salve can be used to relieve the itch of rashes and mosquito bites, and may also counter the inflammatory response to burns.  GLNH body butter and salve may calm sunburn pain and begin to help the skin return to normal.   Use our CBD topical treatments in the morning and evening may increase the quality of your skin by relieving pain while giving it a healthier and younger look.
Be sure to wash and dry the affected area.  Be sure to wash and dry your fingers.  Apply GLNH body butter or salve to a small area first, then go bigger to possibly relieve the affected area.  Don't apply it more than four times a day or on broken skin or popped blisters.  If your burn is showing signs of infection, such as cracking and oozing pus, don't put any topical product on it – keep it clean and covered, and seek the aid of a physician immediately.
Our customers are using GLNH body butter to possibly mend sunburns as well as possibly maintain youthful and nourished skin.  The best part is that there have been no reported side effects.  Our GLNH body butter contains food-grade ingredients and no harsh chemicals, which may encourage the growth of new skin cells.
These statements have not been evaluated by the FDA and these products are not intended to diagnose, treat, cure or prevent any disease. By using this site you agree to follow the Privacy Policy and all Terms & Conditions printed on this site. Void Where Prohibited By Law.